Welcome to ST3 Interview – 'Success in Trauma & Orthopaedics'
Based on frequent interview topics
QUESTION BANK:
Taking you through each step of the process.
INTERVIEW TIMELINE
Top-tips on excelling in each station
INTERVIEW STATIONS
Videos of core interview procedures
PRACTICAL SKILLS VIDEOS
About us
Sign-up
We are aware due to the COVID pandemic this coming year interviews will be over an online platform
This website is your one stop shop in maximising your performance in the entire process including:
-Knowledge bank on common clinical scenarios and anatomy with 550+ of questions
-How to tackle the handover and prioritisation station with example questions to practice
-How to tackle the portfolio station
-Mock interview
-How to come across your best with an online interview and what to expect
-Detailed review on changes made this year
-knowledge course
-free webinar with every sign up
Exclusive 
website access – £110
Including:
Free webinar with Q&A on how to start preparation recorded in December 2020 over

 Zoom

Question bank with 550+ questions on all aspects of the interview, how to prepare for the whole process and procedural video tutorials
The ST3 special – £549.99
Includes:
Free webinar 04/12/21 recording 

One to one interview 2 hours (date and time to be arranged)

Knowledge course 30/01/22 recording

Question bank with 550+ questions on all aspects of the interview, how to prepare for the whole process and procedural video tutorials
Sample our Online content
I would divide my management plan into early management and surgical management.
In the acute setting, there are several Early Management interventions to consider:
– After reduction, an above-knee plaster will immobilise the limb and provide analgesia, stability and rest for the soft tissues. It also allows for repeated neurovascular examinations.
– I would immobilised the knee to 20° of flexion as this prevents posterior subluxation of the tibia.
– Post-reduction X-rays are vital.
– I would consider application of an external-fixator if there was: a) vascular injury b) gross instability.
– I would also arrange an MRI to assess for bone and soft tissues injuries and also for potential surgical planning.
– Ongoing surgical treatment should ideally be performed by knee surgeon familiar with multi-ligament injuries
In the longer-term, important factors influence Surgical Management:
– Non-operative management results in inferior outcomes
– Regarding timing, there is increasingly a consensus that early surgery should be performed (within 2–3 weeks)
– A staged approach is still the practice of some authors, opting to reconstruct the PCL ± medial and lateral structures acutely and the ACL later
Septic arthritis is joint sepsis caused by pathogens invading the joint via direct or haematogenous routes, in contrast to reactive arthritis where there is an immunological response to pathogens.
Yes, the Allman Classification with Neer's Modification. This broadly classifies the fracture according to their location on the clavicle. Group 1 are middle third fractures and are the most common, Group 2 is lateral third fractures and can be subdivided as per Neer's classification, and Group 3 is medial third fractures.
(We are aware this year interviews will be held online and you will not be required to perform technical skills. Interviewers may still ask about procedural knowledge in the clinical station and therefore learning key steps is still essential for the interview and for your practice).
About us
There are many great applicants out there. Many are of excellent quality and are good enough to be an orthopedic registrar, but fail to tackle the interview process successfully or are simply unlucky. We want to share with you our extremely successful approaches and strategies in order to maximize your chances in the application process.
     
Survey monkey feedback
ST3interview Mock interview 2021:
"Really smoothly run, excellent examiners with very useful tips and all willing to go the extra mile."
"Examiners were very good and made it seem like a real life interview. Feedback was enlightening."
"Absolutely brilliant course."
ST3interview Knowledge course 2021:
"Sam and Ash are geniuses! Really good tips, keen to teach and really motivating. Thanks so much!" 
"Excellent breadth of knowledge and variations covered in the knowledge"
"Excellent direction and knowledge from the Sam and Ash, as always."
We are Ash Kalraiya and Sam Nahas, two senior Trauma and Orthopaedic trainees based in London.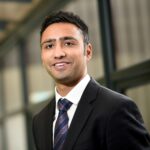 One of us was fortunate enough to score number 1 in the country, and the other top 25. Both of us also achieved our first choice jobs as a result. For 7 years now we have been able to successfully run this fantastic knowledge bank and interview course. This is of course through the help and dedication of multiple contributors and experts that we are in contact with. Our goal is to give you a comprehensive preparation for the whole process of application and interview. We want to leave no stone unturned in helping you prepare for your interview.